This will help you know the the differences between the Kindle Paperwhite 2012 vs 2013 so that you know that you are getting the right product.

The Kindle PaperWhite model 2012 and 2013 really look like twins if you put them side by side and power off.

You won't know the difference unless you put them side by side and power on.
The easiest method to recognize between the KPW 2012 and KPW 2013 model is the word Kindle on the back while the 2013 model says Amazon.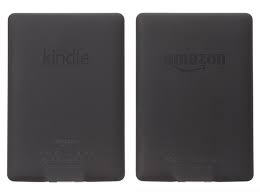 Conclusion
Once I start using the new KPW, I was able to see how it had been improved. The biggest difference is of course the speed. The 2013 KPW is noticeably faster to turn the page, and it is also more responsive in the menus.
When I was testing it, I noted that the new model was done turning the page before the old model even started to turn the page. It's that much faster. Simply great.
Later on, I turned on the front light and the difference became even more clear. My 2012 KPW has a very splotchy front light, while the KPW 2013 model has a much more evenly lit front light. It was also visibly brighter.
All in all, this is a nicely improved eReader. If you are still using the 2012 KPW, I suggest that you get this one instead as I really feel that the new model is worth upgrading to.